DIGITAL MAPS
Imagine Viewing a Full Wall Map on Your Computer Screen!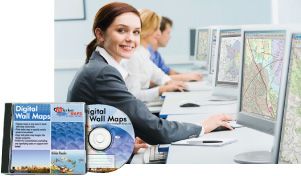 Now, you get the full detail of your largest Wall Maps on your Computer Screen. Pan, Zoom and view any portion of your Wall Map right on your PC or MAC.
You can even print sections of your map and drop map areas into your presentation and office documents!
All maps are available as both Wall Maps and Digital Wall Maps. View your maps using the Adeobe Reader, available absolutely free!
Order Today! Call Us Now 1-888-434-7277
CUSTOM MAPPING DEPARTMENTS