MAP RESTICKERS
Map Restickers
Taking mapping technology to a further step, MapSales.com introduces Map Restickers! Now all our maps can be printed on Photo-Text, a new self-adhesive fabric paper that resists water, wrinkles, and rips. With this innovative technology you can stick your maps directly to your walls without using screws, nails, tape, rails, glue – Just peel and stick!! Need to move your map to a new location? Remove the map from the wall and stick it anywhere else! Map Restickers are completely reusable!
Product Features
- Map Restickers will not rip or wrinkle! They are even washing machine proof.
- Map Restickers stick securely in a any surface (wood, metal, fabric, etc) and in all weather.
- They are easily removed with no residue and are water resistant!
- Map Restickers provide better artistic effects and are UV resistant, meaning that they will not fade in sunlight.
- Map Restickers are available in two options, Fabric & Vinyl.
Keep this option in mind the next time you buy a wall map. We guarantee you will be 100% satisfied with your Map Restickers!!
How to Use Map Restickers?
Using Map Restickers is amazingly simple. Here are the instructions.
Unroll your new wall map.
Peel the map from the backing paper.
Stick the map on your wall smoothing out any air bubbles with the palm of your hand.
Enjoy your new wall map!
Recommendations
Keep the backing paper for storing and reusing the map. Clean the surface where the mall will be displayed before sticking the map. Expected product life time with continuous removals is 3 years; it can last for many years if moved occasionally.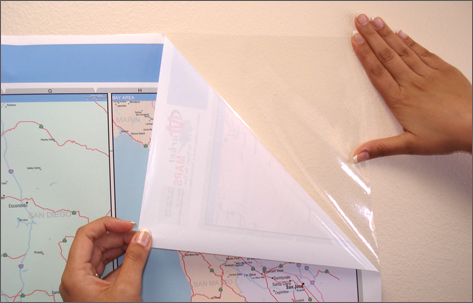 Order Today! Call Us Now 1-888-434-7277
OTHER CUSTOM MAPPING DEPARTMENTS